SAFEGUARD BIOSOLVC6 AFFF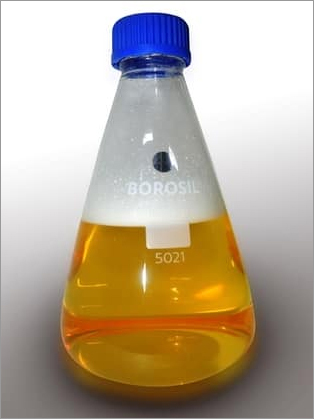 SAFEGUARD BIOSOLVC6 AFFF
Product Code : Biosolv c6 AFFF-1%
BRAND & TYPES:
SAFEGUARD BIOSOLVC6AFFF TYPE 1
SAFEGUARD BIOSOLVC6AFFF Type 3
SAFEGUARD BIOSOLVC6 AFFF Type 6

FEATURES:

It is formulated with environmental benign C6 fluorocarbon surfactants free of PFOA & PFOS. Hence it is environment friendly.

It produced a thin aqueous film which spreads across the surface of the fuel, separating the fuel from oxygen. It has superior knock down, burn back properties and post fire security.

It is suitable for extinguishing & securing flammable hydrocarbon fuel fires as 1%, 35 and 6% as applicable.

It can be used with fresh, brackish & sea water. It is compatible with all dry chemical powders extinguishing agent.

It is used in high risk areas where various types of hydrocarbon fuels and chemicals are stored, processed, or transported. Typical applications include fuel storage tanks, process areas, power stations, marine terminals and offshore platforms.

PROPORTIONING:

SAFEGAURD BIOSOLVC6 AFFF is easily proportioned using conventional standard proportioning equipment such as portable and fixed In-line Inductors, hand line nozzles/branch pipes with pick-up tubes, balanced pressure bladder tank proportioners around the pump type proportioners etc.

TYPICAL PHYSICAL & CHEMICAL PROPERTIES:

Appearance : Amber liquid
pH at 20oC+1oC : 6.5 - 8.5
Specific Gravity at 20oC+1oC : 1.0 - 1.04
Pour point : oC+1oC : 3.0
Expansion at 20oC+1oC : 6-12
25% drainage time at 20oC+1oC : > 100 sec
SAFEGAURD BIOSOLVC6AFFFshould be stored in the original supplied package for getting a long shelf life. It can also be stored in stainless steel containers. The product should be maintained within the recommended temperature range. If the concentrate freezes during transport or storage, thawing withgentle remixing will render the product completely usable. The spills of foam concentrates or foam solution should be handled as per local regulations.

MARKING/APPROVAL:

UL, EN, LR as per IMO, BIS & IRS.

CONFORMING STANDARD:

LASTFIRE, ICAO, ISO, FM, DEF.STAN

PACKING:

20 L, 30 L, 200 L HDPE containers or as per customer requirements.

Download PDF


Get in touch with us